Developers preview .Net tools : Taking advantage of annual software conference, Microsoft showcases future XML-based Web apps - Company Business and Marketing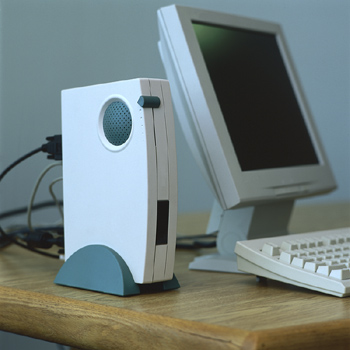 ORLANDO, Fla. -- Microsoft took advantage of its annual Professional Developers Conference (PDC) to flesh out details of its recently announced .Net platform.
In his keynote, Microsoft platforms group vice-president Paul Maritz told the 6000 attendees that the strategy is key to Microsoft's future.
".Net represents the kinds of technology designed to contribute to making the Internet a truly distributed platform. We need to go beyond browsing to allow people to federate information together from multiple Web sites."
Maritz said some Web sites will provide services such as user authentication to other sites, serving up the information on request using Extensible Markup Language (XML).
Users will be able to maintain their calendar information online, for example, and share it so colleagues can schedule meetings and couriers can schedule deliveries.
XML has become the foundation of Microsoft's .Net platform and Maritz sees it enabling a change in the Internet from its mainly client/server model to a distributed one more like that offered by the popular music-sharing programs Gnutella and Napster.
The .Net platform will allow developers to build this environment using components to be delivered over the next 12 to 18 months.
At the conference, developers received preview copies of a primary building block: Visual Studio. Net., scheduled to go into beta testing this fall. It contains new versions of Microsoft's development languages, including Visual Basic, JScript, Visual C++, and the newly-announced C# (pronounced "C Sharp").
Conspicuous by its absence was the Java tool Visual J++, subject of an ongoing lawsuit with Java creator Sun Microsystems Inc. over Microsoft's right to extend the language.
The second component of the platform is the .Net Framework, a set of language-neutral programming building blocks that let developers work with their tool of choice, yet still develop Web services -- reusable components that can be assembled into application software.
These services can be made available over the Internet for use by other developers, who can mix and match the pieces, regardless of the language they were written in.
Seventeen languages from various vendors are already .Net-ready, ranging from the above-mentioned Microsoft quartet to Perl, APL and COBOL.
During his keynote address, chairman and chief software architect Bill Gates said Visual Studio.Net is the starting point for .Net applications, which will emerge in the next two releases of Windows.
The first, code-named Whistler, is scheduled for release late next year and with it, Gates said, "we get the entire Windows marketplace moved over to the NT technology."
While Whistler will see the browser more central to the user interface (UI), and enable users to save files to a Microsoft Internet storage site, the most profound changes will come in the next release, code-named Blackcomb, which will appear in late 2002, Gates said.
The first step towards that UI, in which the browser becomes the presentation component of the operating system, was released for download as Gates spoke.
Internet Explorer 5.5 provides a number of enhancements, including a long-requested print preview feature. But it has already come under fire from Web standards advocates who claim pages taking advantage of the new features cannot be viewed in other browsers.
Gates also announced the release of a preview version of 64-bit Windows 2000 and said all developers working with the Intel Itanium 64-bit processor will receive the 64-bit software developer's kit.
He said Itanium will first be used in the server space then move to the desktop, demonstrating that Windows can scale and offer mainframe-class reliability in the process.
"Software scale is where you get no limits," he declared. "We are working toward the best absolute performance."
RELATED ARTICLE: When will .Net ship?
* SQL Server 2000, Exchange 2000, Q3
Host Integration Server 2000
* Commerce Server 2000, AppCenter 2000, ISA 2000 Q4
* BizTalk Server 2000, Visual Studio.Net Q4
* SQL Server 2000, Exchange 2000, HIS 2000, Beta
ISA 2000, Commerce Server 2000